120 Ton Wheat Flour Mill Plant
Product Detail
Product Tags
Wheat flour mill plant is designed and installed together with the steel structure support. The main support structure is made of three levels: the roller mills are located on the ground floor, the sifters are installed on the first floor, the cyclones and pneumatic pipes are on the second floor.
Workshop height is relatively low to reduce customers' investment. Optional PLC control systems can realize central control with a high degree of automation and make operation easier and more flexible. Enclosed ventilation can avoid dust spills to keep high sanitary working conditions. The whole mill can be compactly installed in a warehouse and designs can be customized as per different requirements.
| | |
| --- | --- |
| Model | CTWM-120 |
| Capacity(t/24h) | 120TPD |
| Roller Mill Model | Pneumatic |
| Sifter Model | Plansifter |
| Cleaning Flow Sheet | 3-sifting, 2-scrouring, 2-destoning, 1-dampening |
| Mill Flow Sheet | 5-breaking, 8-reducing, 1S, 1T, 4P |
| Total Power(kw) | 450 |
| Space(LxWxH) | 46x10x11m |
Cleaning Section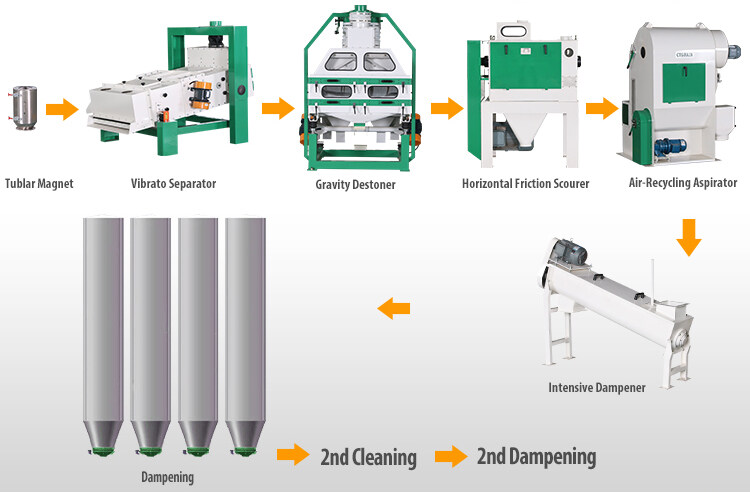 In the cleaning section, we adopt drying-type cleaning technology. It normally includes 2 times sifting, 2 times scouring, 2 times de-stoning, one time purifying, 4 times aspiration, 1 to 2 times dampening, 3 times magnetic separation, and so on. In the cleaning section, there are several aspiration systems that can reduce the dust spray-out from the machine and keep a good working environment. This is a complicated thorough flow sheet that can remove most of the coarse offal, middle size offal, and fine offal in the wheat.
Milling Section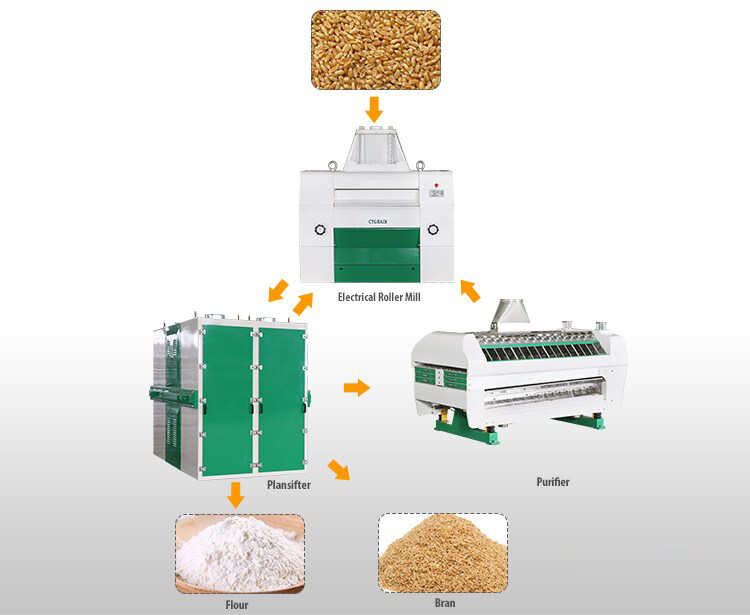 In the milling section, there are four types of systems to mill the wheat to flour. They are the 4-Break system, 7-Reduction system,1-Semolina system, and 1-Tail system. The whole design will insure less bran is mixed into the bran and the flour yield is maximized. Because of the well-designed pneumatic lifting system, the whole mill material is transferred by a High-pressure fan. The milling room will be clean and sanitary for aspiration adoption.
Flour Blending Section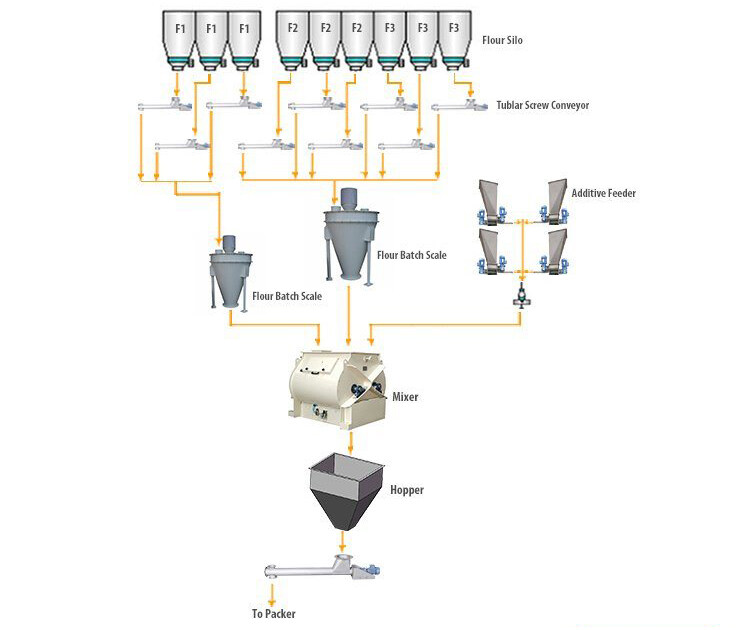 The flour blending system mainly consists of a pneumatic conveying system, bulk flour storage system, blending system, and final flour discharging system. It is the most perfect and efficient way to produce tailored flour and keep the stability of flour quality. For this 200TPD flour mill packing and blending system, there are 3 flour storage bins. The flour in storage bins is blown into 3 flour packing bins and packed finally.
Packing Section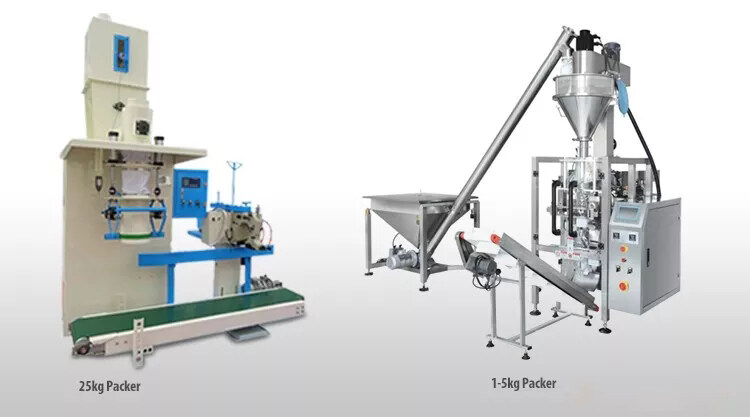 The packing machine has features of high measuring accuracy, fastpacking speed, reliable and stable working. It can weigh and count automatically, and it can accumulate weight. The packing machine has the function of fault self-diagnosis. The packing machine is with sealed type bag-clamping mechanism, which can prevent material from leaking out.The packing specification includes 1-5kg,2.5-10kg,20-25kg,30-50kg.The clients can choose different packing specifications according to requirements.
Electrical Control And Management



We will supply an electrical control cabinet, signal cable, cable trays and cable ladders, and other electrical installation parts. The substation and motor power cable are not included except customer especially required. PLC control system is an optional choice for customers. In a PLC control system, all the machinery is controlled by Programmed Logical Controller which can ensure the machinery runs stably and fluently. The system will make some judgments and do reactions accordingly when any machine is at fault or stopped abnormally. At the same time, it will alarm and remind the operator to settle the faults.
Technical Specification:

Item

Description

1

Cleaning flow sheet: 3-sifting     2-scouring     2-destoning    1-dampening

2

Flour mill installation area: Length x Width x Height = 46 x 10 x 11 meters

3

Installation Power:  392Kw.

4

Water consumption: 0.25T/H

5

Operator needed :  4-6 person

6

Flour quality: If producing straight flour, the yield is 75%,  ash content is 0.54-0.62% (as is basis).
If producing 2 grades of flour, the extraction rate of Grade 1 flour is 50%, and with ash content  0.43-0.54%; and the extraction rate of Grade 2 flour is 28%, with ash content 0.62-0.65%. The ash content above is on wet basis.
This data is based on the wheat quality which is same or better than grade 2 from America or Australia.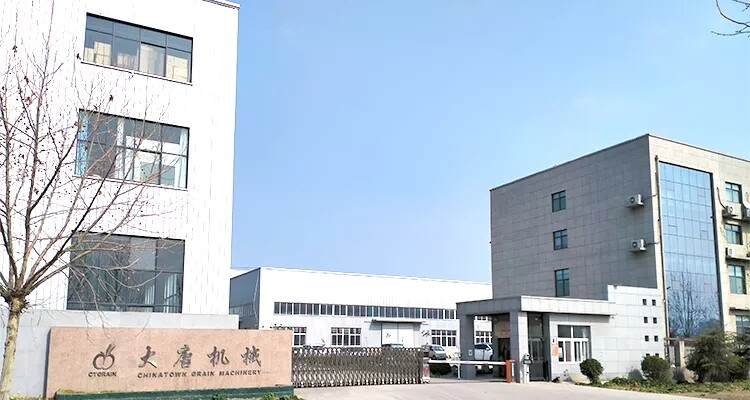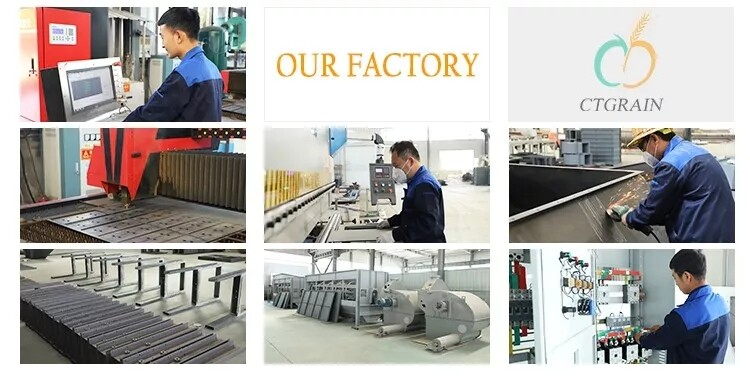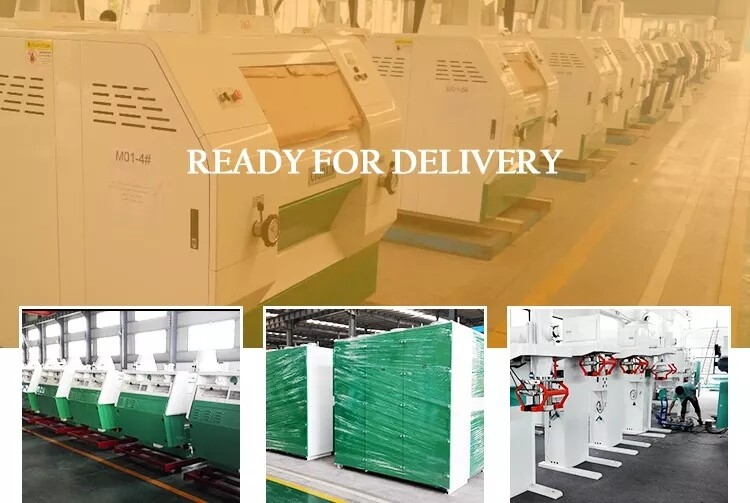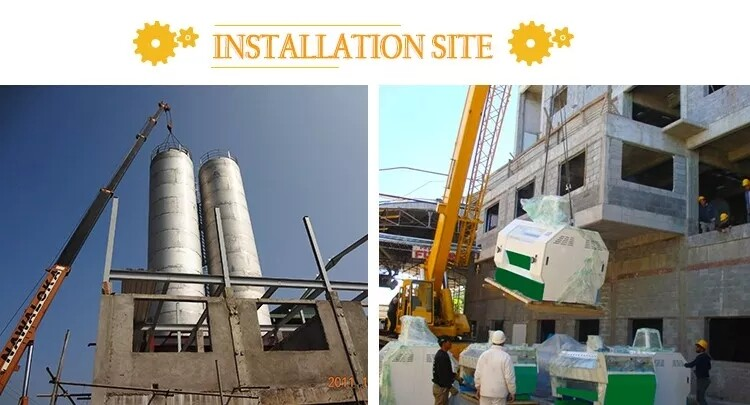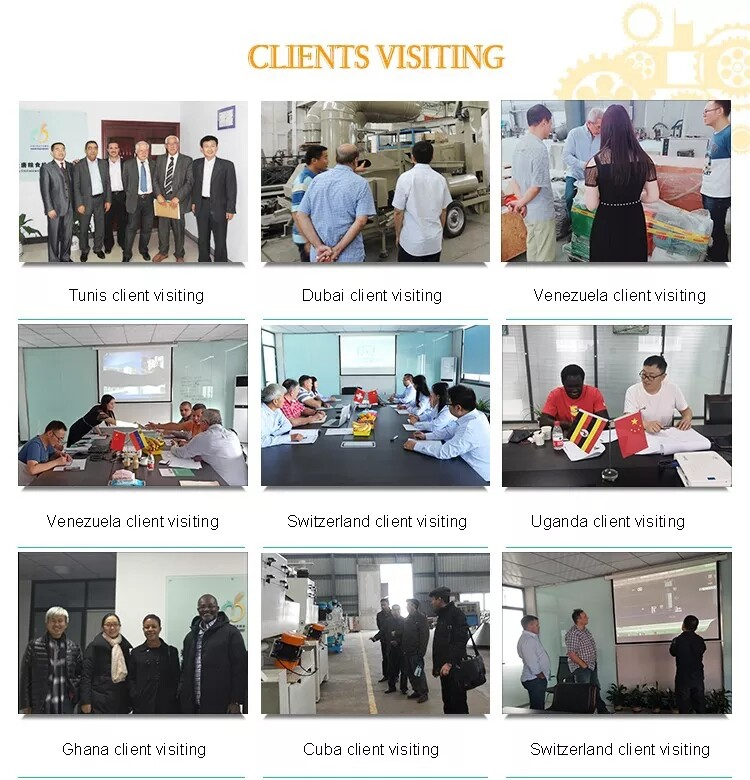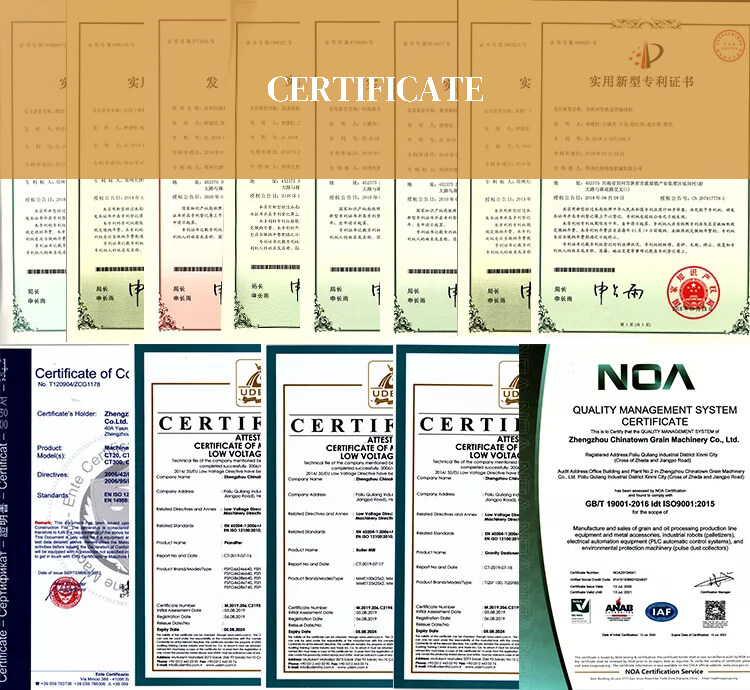 ---
Previous:
60 Ton Maize Flour Mill Plant
---
Write your message here and send it to us